Boxed Wine Cover | Rectangle | Driftwood | Giants Tomb Trading Co
Description:
Take your boxed wine from "ordinary to extraordinary" with the handcrafted solid wood Boxed Wine Cover | Rectangle | Driftwood.  The carved grapevine design entitled Vitis, Latin for grapevine, accents the craftsmanship and elegance of the wine cover. On your counter-top, bar, or on-the-go this wine box cover provides the ideal complement to your decor.
The Heritage and Driftwood Rectangle covers are constructed of native white pine, indicative of the wind-swept pines that stand on the rugged 30,000 Islands. The Head Hoop and Tap-Clip are forged from solid steel. The Wrought Iron finish has a clear coat that lets the unique patina shine through.
Fits most 3L & 4L boxed wine. We have tested our covers on various brands (Franzia 3L, Jackson-Triggs 4L, Peller Estates 4L, Sawmill Creek 4L, Open 3L). We are still testing more brands, one glass at a time!
Boxed Wine Cover | Rectangle | Driftwood Features:



Designed and crafted exclusively by Giants Tomb Trading Co.
Carved Vitis (grapevine) design
Fits 3L & 4L rectangular boxed wine.
Head Hoop (see diagram: PARTS OF A WINE BARREL)
Easy Load Panel
Weathered Wind-Swept texture
Durable water-based polyurethane finish
Solid wood construction
Select-size Riser
Magnetic Tap-Clip holder
Magnetic back panel lock
Secure Tap-Clip
Anti-scratch feet
Instructions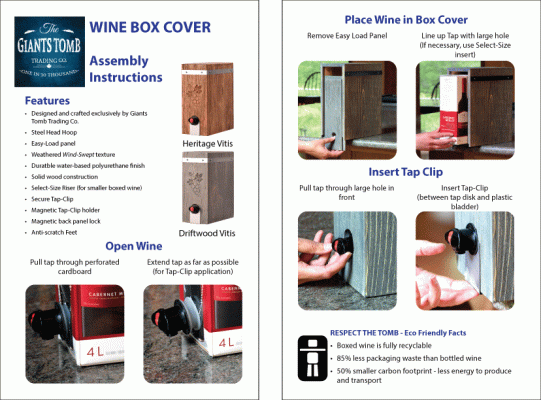 Other Boxed Wine Covers:
Check out the rest of the great products in the shop!
Check us out on ETSY
SaveSave
SaveSave
SaveSave
SaveSave
SaveSave
SaveSave
SaveSave
SaveSave
SaveSave
SaveSave
SaveSave
SaveSave
SaveSave